Ranking System
Short Version
A new ranking (Guilded) system is being introduced.
Register on metanet.id
Perform interactive tasks (see long version explanation)
Fulfil various criteria to use on the MetaNet slack, or lesser criteria to just use here
And earn the privilege of showing visible status & gaining other bonuses
Long Version
On this platform, your myCredrank will automatically change (image and name) when you have achieved certain trust levels. This will be displayed in your profile.
Within the Metanet ICU members will be cleared to use the same status on their username if they have achieved the relevant myCredrank and other criteria.
Each ranks extra criteria can be found here;
You can still build up your trust points without filling the extra criteria, and without being a MetaNet member. Your rank is publicly displayed on your profile so you can use it to show off your commitment and knowledge in our forums and groups. You can even link to your ID profile from external sites.
Trust Rating
Your trust rating will show as a badge and title under your myCRED Rank on your user profile metanet.id/user.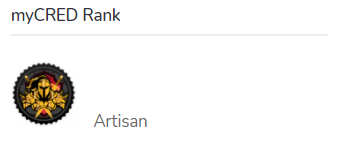 This qualifies you to use the same image for your status within the MetaNet Membership club, making it easy for old and newer members to recognize your commitment at a glance.
Trust rating can be gained by a variety of methods such as the following;
Registering +1
Being a member on .ID for 1 year +10
Approved comments +1
Commenting on your own posts +1 (limit 3 per day)
Upload a profile picture +1 (limit 2 per week)
Upload a cover photo (limit 2 per week)
Update your profile +1 (limit 2 per week)
Create a new forum +1 (limited 2 per week)
New topic +1 (limit 5 per week)
Adding a topic to favourites +1 (limit 2 per week)
Forum reply +1 (limit 5 per week)
Admins can also add trust for any relevant given reason.
Losing Trust
You should also be aware that certain actions can result in your trust being automatically lost, such as;
Spam comments -2
Trashed comments -1
Removing your profile picture -1
Removing your cover photo -1
Deleted topic -2
Deleted reply -1
Adding your status when you have not paid a tithe -5
And admins can also remove trust for any relevant given reason.
Tithe & Benefits
The other criteria of being allowed to use the relevant status within the MetaNet member is that you pay your monthly (or yearly) tithe. This will be free at first and then increasing to £3 monthly, and then £5 after the trial period is over. When it is £5 per month there will be an optional yearly tithe of £50 instead (saving you 20%).
Those within the ranking system and keeping up their tithe will eligible to add the relevant status to their Metanet Membership profile in slack and also be awarded further benefits.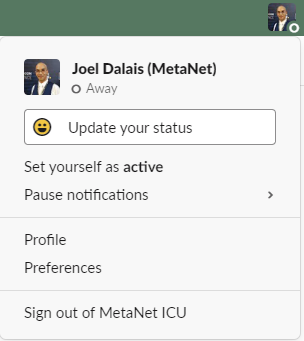 Monthly newsletter (all)
Monthly competitions (all)
Free silver pass token per month
(+1, +2 or +3, depending on your rank starting at Journeyman)
Once you hit the tithe button, found below and on your user profile, the Quartermaster will be notified and you can add your Status in the slack whenever you want.
If you are using the Tithe system you are also required to add your metanet.id profile URL to your profile in slack, as per the image below.