MetaNet TV Livestream August 2019 – Dr. Craig S. Wright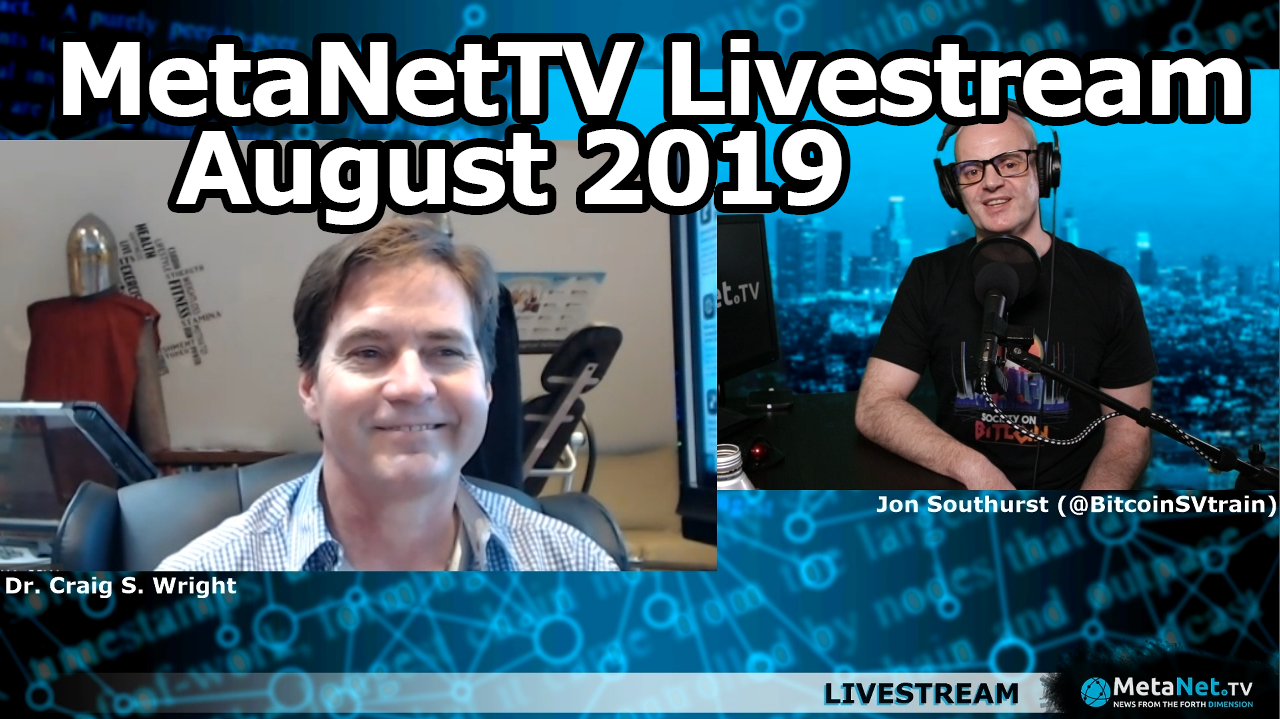 Continuing our monthly Livestream series with MetaNetTV, the channel's very own Jon Southurst interviewed Dr. Craig S. Wright, hitting a few different topics and discussing questions from the community.
Legal Updates and Tax History
A particularly hot topic of late was that of Dr. Wright's recent court cases and the surrounding media attention that appeared as a result. The case concerning Ira Kleiman arose and the ensuing discussion helped to clarify the confusion that was a result of social media speculation and inaccurate reporting.
Dr. Wright expanded on some details that had been overlooked and discussed how in response to the most recent court meeting more of evidence is set to be released. He went as far as to quote an Australian tax record of his from 2013, revealing how much tax he paid on his Bitcoin in that year and direct quotes of mining equipment purchases in 2009. Dr. Wright made it abundantly clear that the Ira Kleiman court case is far from over and his libel suit against podcaster Peter McCormack is only just kicking off.
Wright: Bitcoin can fight crime, corruption
Though the court case was a recurring theme given the recent news out of Florida, it certainly wasn't the only topic discussed. Dr. Wright expanded on the intentions behind Bitcoin's invention to work within the legal frameworks of all countries and what that means when those countries have differing legal systems. He was adamant that Bitcoin must operate within law as it was designed to eliminate and significantly minimize theft, fraud, corruption and more through its immutable trail of evidence. He highlighted how judgments could be enforced over multiple jurisdictions, and likewise how each legal jurisdiction can have its own rules. Places such as China, where there are restrictions on free speech, will be enabled to filter content on-chain they deem undesirable — but it won't be able to be removed.  
Questions from the community concerned a variety of topics where Dr. Wright provided answers to questions like which programming language is the best to use for bitcoin application development, or if art has real value outside of egotistical aggrandizement. Delivered in his typical style, Dr. Wright's responses made for an intriguing interview with answers to a number of compelling questions. Watch the complete interview to hear it all.
To see more livestreams and content from MetaNetTV, subscribe to our channel on YouTube and Streamanity.